It is every girls dream to find a perfect man and build a family of their own. To find someone to be with for the rest of their lives. We all want to be married, everybody wants to be married!
Once you find your perfect match, you'll work hard to make the relationship stronger. And then, you share your dreams and plan the future. Then you want your union to be legal and sacred.
As young girl, my ultimate dream wedding is by the seaside but it never happened. God has another plan for me and it does not include beach wedding. Maybe, because He knows I do not fancy wearing dresses or gowns. So, we had a civil wedding with few of my husband relatives.
But how lovely it would be to be married in a beach wedding, with candles and flowers and walking barefoot.
If we ever get the chance to re-vow our wedding vow, it would be nice to do it by the seaside and that is why I came up with these two great design INVITATION CARD for A BEACH WEDDING CEREMONY. These are now now available on my Zazzle store. If you are LOOKING FOR A PERSONALIZED BEACH THEMED INVITATION CARD , YOU MAY PURCHASE THESE BY CLICKING THE LINK BELOW THE PICTURES. There is also matching table cards and envelope.
CUSTOMIZABLE BEACH THEMED WEDDING INVITATION
by
realgrapiks
Check out more Beach Invitations at
Zazzle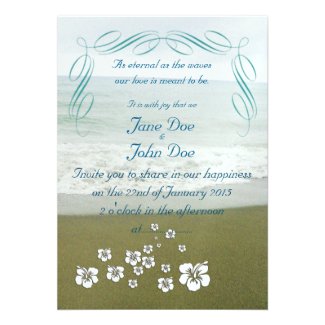 TROPICAL BEACH THEME INVITATION
by
realgrapiks
Check out more Tropical Invitations at
Zazzle